Would you like to grow your business and reach a high number of potential clients and generate quality leads? Well, you should develop a strategy to monitor SEO growth for your brand.
If your site is not well optimized, then it will be difficult to rank in search engines, reach target clients, and market your products and services.
Some brands don't know how important SEO is to their business marketing, and only 63.57% of markers take time to invest in SEO.

Before making any sales from your brand, target clients need to know about your business and what you are offering. They also need to know how your products or services will help them solve their pain points.
That is why it is essential to consider SEO growth for your brand. As you create content with customer intent that helps solve their challenges, your content should be optimized for keywords that rank high and also ones your target clients are searching for.
Create different content in your marketing funnel that will address your target clients in the different stages of their purchase journey.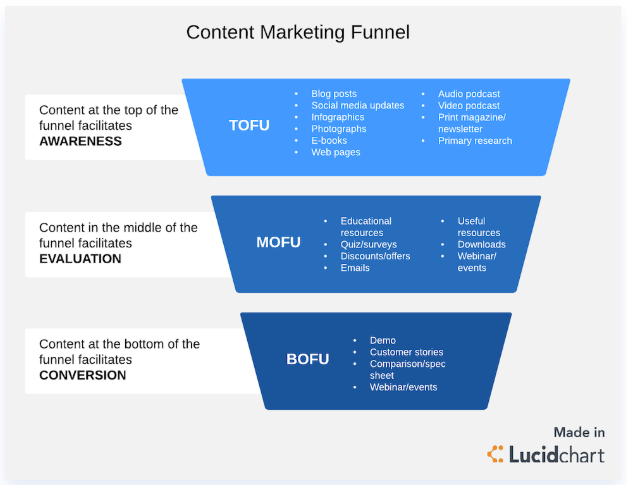 SEO can make or break your business which can profoundly affect your returns on investment. It is essential to have the right tactics to monitor your SEO for your brand growth.
Ways to Monitor SEO growth for your business
Organic Search Traffic
You can use the number of visitors to your website to predict how your brand's SEO is growing. The main reason you optimize your content is to market your services and products to your customers.
Target customers will use certain keywords to search for information online. High organic traffic means you are creating content that target clients want and reads.
Organic traffic helps bring leads to your website through search engines. Here is an example of Neil Patel Ubbersuggest screenshot of his organic traffic.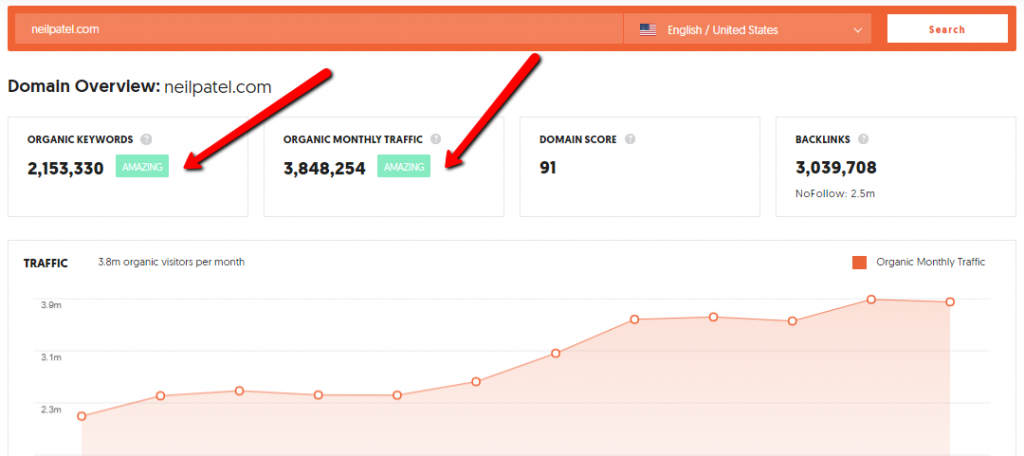 Monitor SEO traffic changes that can result in to decrease in organic search and affect your business and focus on keywords that match user intent.
It is essential to track down your organic search website traffic using Google Analytics. It enables you to analyze different SEO related factors like page views, where to find your website traffic, and your online campaigns that bring high lead conversion.
Organic traffic is one way of monitoring SEO growth. Using Google analytics you can know all the sources of traffic to your website.
You can also know the type of content that your target readers want and create more of that content to increase engagement to your brand.
If your site has a high number of visitors from search engines like Google it is a clear indication your content is doing pretty well.
Bounce rate
It is the percentage of website visitors who leave your website after viewing just a page of the site.
The bounce rate is measured in percentage. If its percentage is 25%, then this indicates that 25% of the people just visited a page of your website and left.
Monitoring and measuring the bounce rate can help you know what's not working for your website and fix it to attract more target clients.
It is essential to monitor and improve your website bounce rate. Create great and informative content that engages your website visitors. However, it is important to know that the bounce rate is different for websites in different niches.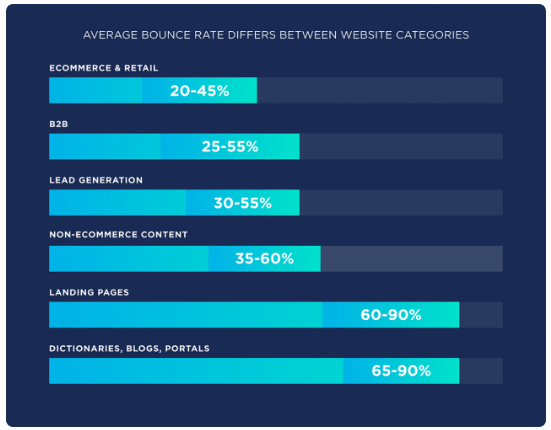 Offering high-quality content and make your site easy to navigate can reduce bounce rate, monitor SEO growth, improve customer experience, and attract quality leads.
Loading speeds of your website can also contribute to high bounce rates. Target customers will not stick to a website that has low loading speeds.

Backlinks
When you monitor SEO growth, it is essential to consider backlinks. Linking your website to reputable sites with high domain authority increases your search rankings.
Backlinks help evaluate your link-building campaigns for your website and content optimization.
If many people are linking your content to their site, it indicates they love your content and find it useful in helping them solve their pain points.
Having a high number of backlinks to your website improves your ranking in search engines. Research by Ahrefs shows that 66.31% of web pages don't have backlinks.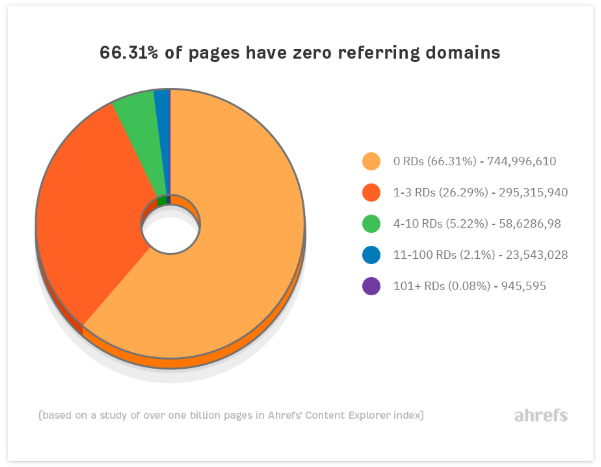 Offer high-quality content visitors will find it useful and link back to their website or blog posts when writing marketing content for their brand.
It is essential to consider on-page SEO in relation to your website link-building campaigns.
Here are some great tools to help you analyze your backlinks and assist in monitoring SEO growth for your site.
Monitoring your backlinks assists you to gauge the success of your SEO tracking and help you build a relationship with potential clients, and increasing your domain authority.
Keyword search
People visit Google to find solutions to the challenges they are facing. To draw visitors to your site and improve your ranking, research the keywords they use to find content that educates and informs them on how to solve challenges.
There are many tools you can use in the keyword search. It is essential to use the right tools for keyword search with the right keywords you can monitor the people using specific keywords to visit your website and track traffic.
Link your content to keywords website visitors type in the search engine when searching for content in the niche you write. Search for keywords your target clients use in their content search.
For example, I used the Ubbersuggest tool and typed the keyword "marketing strategies" and here is what I got.

The above keywords have a high search volume meaning most readers use it to search for content. It also has low search difficulty which makes it rank high on the search engine.
Apart from using excellent tools for keyword search, it is essential to search for keywords smartly. Consider the interests of the website visitors when creating content and when using keywords they are likely to use in their content search.
People will use different keywords when searching for content. Some will type in keywords that relate to products that you offer, and others will use keywords concerning your brand.
Have a keyword seed list, which is your set of different keyword ideas depending on the content you are writing for your readers. The set of keywords will help you determine the ones that will link well with the content that you will be writing.
Tracking Keywords
Research by databox shows that 45.3% of marketers track their keywords daily.
There are both free and paid tools to help in tracking keywords you use in your website content.
The following tools can assist you to track your keywords and monitor SEO growth for your site.
· Serpfox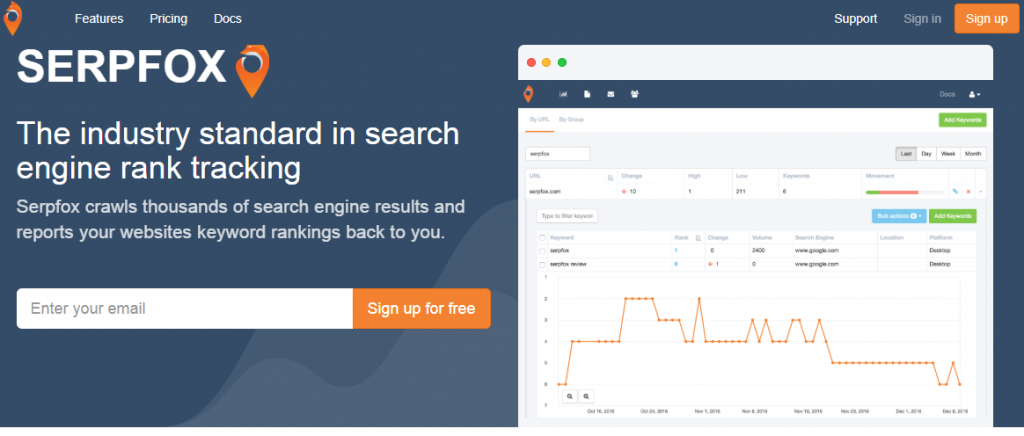 Serpfox website, great keyword tracker tool
Once you sign up for your account, add your website URL. Then expand your URL to add keywords. Then add keywords you want to track one per line.
You can narrow down your tracking to a specific country or search engine. Serpfox tool will then check your keyword ranking. Upgrading to the paid version of Serpfox will give you more options on how to track your keywords.
From the tracking, you can be able to know how you rank in search engine. Tracking is essential to help you monitor SEO growth.
It will also help you know the content your visitors need most and help you tailor your blog posts to capture your visitors' interests engage them to your brand, nurture them, and convert them into clients.
· Pro Rank Tracker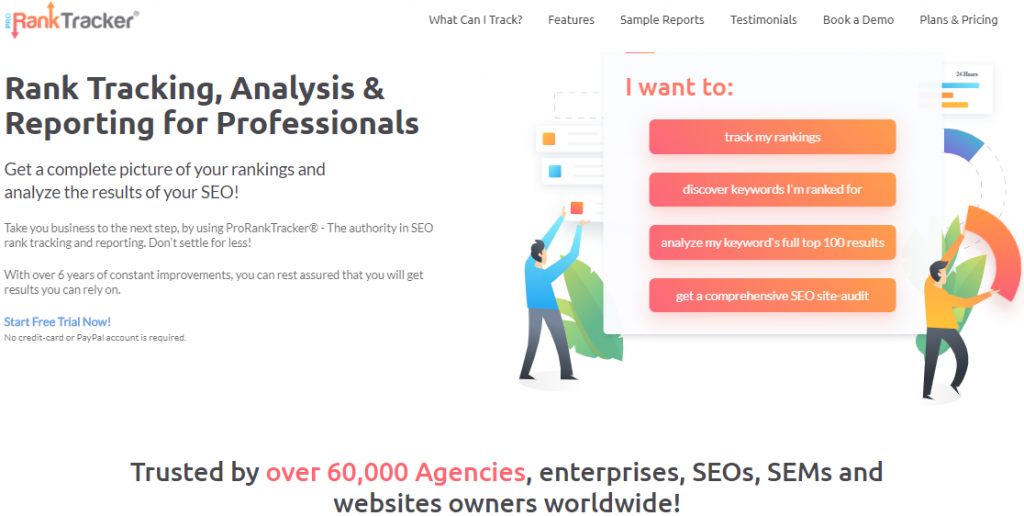 Pro rank tracker, keyword tracking tool
This tool is great when it comes to keyword tracking.
The free trial has limited features. With the paid version, you can track and improve your keywords ranking.
It also helps get your overall search engine ranking and analyze them for your high ranking in search engines. It has great support to make sure you get the best out of the features for more top ranking.
Conversions and sales
You are not only creating content to attract leads to your website but make them buy something from you, right?
Well, you can use your lead conversions to track and monitor your SEO growth. You will create different pages and content to draw target customers to your business.
Your track down the conversion for landing pages you create to access your brand growth through content optimization. Each copy of your landing page is optimized to attract, engage, and convert leads.
High conversions and sales indicate your SEO strategy is working as more leads find your business through search engines and you convince and win them to your business through your content.
You can run A/B tests for your different landing pages with different content to evaluate the copy that works better at converting leads for your business.
Conclusion
It is essential to track and monitor your website search engine optimization. Optimizing your website by offering great content your readers will love, and share is vital.
Keep on monitoring and improving your content for high ranking in search engines.
With good ranking, you can market your products and services to a high number of potential clients who find you through search engines.
Converting your acquired leads to consumers will increase your sales and improve your return on investment for your business.