Customers are now looking for brands that will give them the best customer experience. This is supported by research contacted by Walker that shows how customers value experience.
As you reach more customers and sell your products or services, give them the best user experience for your products or services.
This helps build more trust, engage them to your brand and increase conversions and sales
If you don't know how well your customer experience is, here are some metrics you can track.
Customer lifetime value
You can measure the revenue that a single customer has brought to your brand over a period of time.
A customer whom you give a great experience will stick with your brand for a long time.
They will continuously pour in money to your business and grow your sales and revenue with their purchases or subscriptions in case you're a SaaS business.
A higher customer lifetime value shows that the customer loves your brand and what you offer. Here is how you can calculate customer lifetime value.
Customer churn rate
Customers can do business with you then after some time, they stop using your business.
This shows that they found that your brand doesn't satisfy them or fully help them solve their pains.
A high churn rate shows that a brand is not fully satisfying its customer pain points. That's why they come to your business hoping to get solutions to their pains but leave the business after new purchases.
They spend some money on your products or services and realize that you are not helping them, then they leave your business.
To reduce the churn rate let the customers see the value your products or services will bring to them.
Here is a Hubspot tool you can use to calculate the churn rate for your business. The tool can also help you measure these other metrics alongside the churn rate.
Customer referrals
Satisfied customers are more likely to tell others about your brand. Referrals are a great part of your brand awareness. You can use this formula to calculate the sales you generate from referrals.
When your existing customers refer new customers, they are more likely to refer others to your brand.
Customers will only refer others to your brand based on the experience they get from your business.
Amazing customer experience puts the customer at ease, helps them feel appreciated and heard, and helps brands give the best service.
Those customers would like their friends to get a similar experience and help with their pain points and will refer them to you.
Conversion rate
Brands with great customer experience have a high conversion rate for their leads.
As you nurture your potential customers through their buyer journey give them the best experience.
Every step of the sales funnel should guide, educate, and show the leads the value they will get from your brand that will help them solve their pains.
This helps build trust with your brand, learn more about how your business will help them, and see the value of doing business with you.
When target clients see the value you are giving them for their pain points they are more likely to convert into clients.
Customer engagement
You can use this metric to measure how effective your customer experience is to your customers.
Customers tend to engage more with brands that give them the best experience.
They take time to study those businesses and learn how they will help them solve their pain points.
Create high-quality landing pages that will engage target customers to your brand. Every page on your website should be tailored to your customer needs.
Your content should educate, guide, nurture, and engage your audience to your brand.
Cart abandonment rate
Many target customers abandon their carts in the purchase process. There are many reasons why prospective customers abandon carts.
Giving your customers great experience solving the issues that make them abandon their carts can increase sales.
Reduced cart abandonment is a clear measure that your customers love your experience and are happy to buy from your business.
Customer acquisition rates
Acquiring new customers is more expensive than retaining the ones you already have.
As you market your brand through different channels like ads and content marketing you will generate leads to your business.
Lower customer acquisition rates show that more target customer loves your brand and are more likely to convert into customers.
Brands with great customer experience incur fewer expenses to acquire customers as they retain most of their existing customers.
Pages per visit
Brands with great customer experience will see visitors spend more time on their website pages.
They will engage with different website pages like blog content, the home page, or their sales pages.
As these target customers interact with the website they build more trust with the business and that increases the chances to convert.
Bounce rate
A high bounce rate is an indicator that your target customers don't see the value your brand will give them. For instance, most website visitors leave websites that have a load loading speed.
Statistics from Think with Google shows that the bounce rate increases with slow website loading time.
If customers can't navigate well through your website to find what they are searching for, they will leave that site.
Average resolution time
As customers engage and do business with brands that will have challenges that they need to be addressed. Great customer care support helps improve the customer experience.
Vonage research shows that businesses lose $62 billion by not offering great customer care support for their customers. It is essential for brands to know that customers are the center of their marketing.
If customers have issues they need help with, the support team should ensure the customer issues are resolved as soon as possible.
Customer satisfaction score
To measure how satisfied your customers are you can send them a survey after they make a purchase or subscribe to your business. Your survey should have a score scale to gauge your customer experience. You can use the GetFeedback tool to calculate this metric.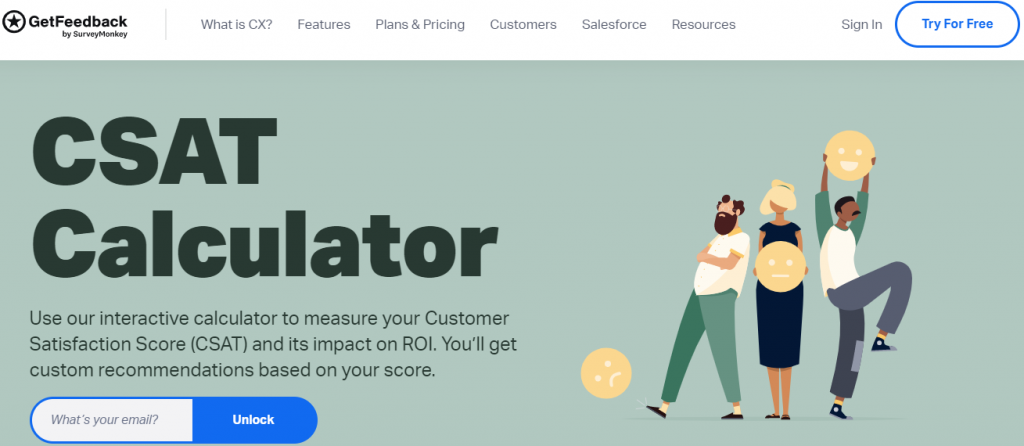 You can collect this feedback from your different customers then find the average score.
If you have a low score you need to put in a lot of work to improve your customer experience.
Customer effort score
This is another metric that gauges how effective your customer experience is. It measures the effort your customer has to put in to get his/her issues resolved.
From this score, you can know the areas where your customer put in a lot of effort to get something done or to accomplish a task with your business.
Straining your customers shows that you need to improve your experience and take that hard work for them. Here is a method from Zonka Feedback on how to calculate the customer effort score.
Net promoter score
Net promoter scores can help you gauge the loyalty of your customers to your brand. Here is how the score scale looks.
The scale is divided into three portions.
Promoter: ( score 9–10) These are very loyal to a brand and can keep using the brand products or services
Passives: (score 7–8) These are satisfied but given a counteroffer by competitors can take it. They are unenthusiastic customers.
Detractors: ( score 0–6) These are unhappy customers who can affect your brand growth as there is a high chance of leaving your brand and join competitors.
The total percentage difference between the passives and detractors gives you the net promoter score.
Conclusion
Great customer experience is the foundation of your business. Keep your customers at the center of your business and nurture them with great experiences from your brand.
Use the above KPI to track your customer experience and grow your business conversion and sales.