Have you thought about starting a freelance business but don't know where to start? Or have fears and insecurities about the whole idea of freelance digital marketing? Well, this article is for you.
You will learn what freelance digital marketing is, how to start freelancing and what you need to start as a freelancer digital marketer. You will also know the pros and cons of running freelance digital marketing and how much you can earn as a freelancer.
What Does a Freelance Digital Marketer Do
A digital freelance marketer can do a variety of activities online. The main goal of all these is to help brands increase their awareness, get more target customers to their business and convert them into customers. Here are some of these activities.
Creating a content marketing strategy

for clients to monitor the KPI and run an analysis of the business marketing.

Writing email marketing campaigns

for client outreach and increasing brand awareness.

Create and manage marketing campaigns

( free and paid), for example, running ads on Facebook, LinkedIn, or Twitter sites.

Optimizing content for high ranking on SERPs

includes doing keyword searches, off-page, and on-page optimization, technical SEO
Here is research by Elna Cain showing the main types of content writers create for digital marketing.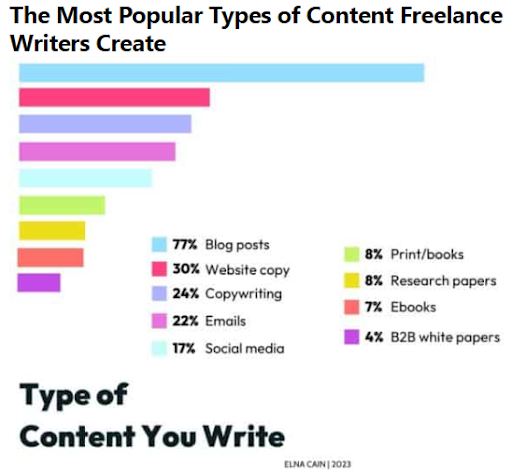 Source: Elna Cain
What is Freelance Digital Marketing
These digital professionals work independently as contractors to help businesses market their products or services to their target customers online.

Source: Hubspot
Pros and Cons of Becoming a Freelance Digital Marketer
Pros
It is a great way to increase your earnings

There is increasing demand for freelance writers

Freedom to manage your time

Freedom to work with businesses anywhere in the world

Get work from clients directly

Being available to take care of loved ones. This is supported by Freelance forward research showing 74% of freelancers love this.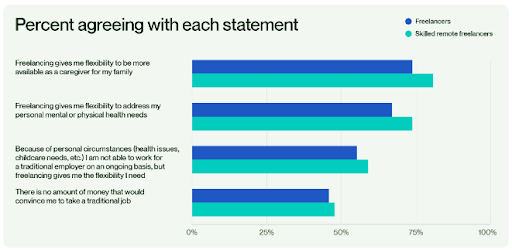 Source: Freelance Forward
You don't need a degree to start, you can write as you learn
      Cons
No job security

Feast and famine seasons

No benefits like other full-time employees

Competition from other freelance writers

Getting clients that are hard to work with
What skills do You Need to Become a Freelance Digital Marketer?
Search engine optimization

Writing blogs content 

Social media management

Video Marketing

Creating podcasts

Graphics Designing

Copywriting

PPC advertising
How to Start as  a Freelance Digital Marketer
Have a freelance business owner mindset

. You're not just writing content, but you're a business owner. So start your freelance business with that business owner mindset. 

Have some writing samples

; potential clients will ask if you can deliver the type of content they want. Write some samples that you can use to prove you can write. You can write and publish content on sites like Linkedin or medium.

Guest post articles

. Target clients can discover your work through guest posting and reach out to you. Ensure you create high-quality content that targets your client's pain points and how to solve them.

Build your online presence

. Create and optimize your social media channels. You can start by creating profiles for Linkedin, Twitter, and Facebook. Also, create a personal website and start creating and publishing content there. 

Take online freelance classes

. To get skills and know how to implement them faster, you can get a mentor by taking some writing courses. These courses help you build your skill set for your freelance business. Some of these sources are:
Choose a market niche

. Having a specialty in the market makes it easy to get clients. For example, you can write for clients in the health niche instead of just being a freelance writer. As you

choose your niches

, know that some pay well than others.

Build a network with other freelance writers

. You learn how other freelance writers get clients through networking and implement those strategies in your marketing.

Set your prices for the services you offer

. Freelance prices are subject to the writer and client's agreement. Before you start giving your rates, you can do a survey and check how other writers in your niche charge.
How much Does a freelancer Digital Marketer Make?
The pay for freelancers is not fixed, and this depends on the experience of the freelancer as well as the niche that they write in. For example, a person writing in the B2B niche is more likely to earn more. Here are some statistics on how much freelancers earn.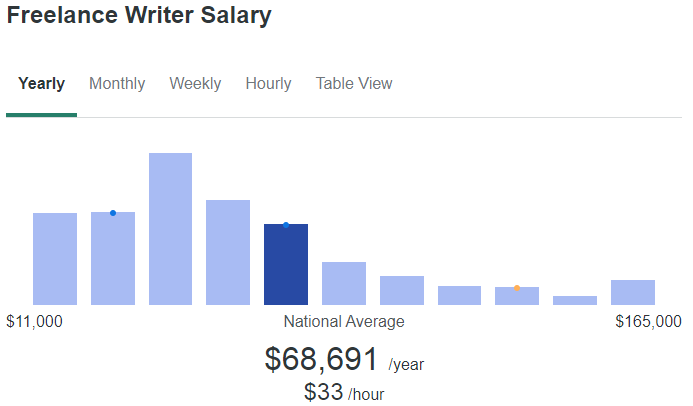 Source: ZipRecruiter
Conclusion
When done right, freelance digital marketing is a great way to run a business and earn a high income. With the insights from this article, you can start your freelance business, reach out to clients, build relationships and grow your business.