Growing your online brand and generating consistent sales is hard for every brand.
Each day is a prospecting day to generate more customers. It is the first step in the sales journey and needs to be done in a perfect way.
However, some methods are not effective in helping generate leads and convert them into customers.
This article will give you the best strategies you can use to prospect target customers win them and convert them into customers.
What is a sales prospecting?
This is the process of searching for target customers for your business products or services.
People who will buy what you are offering and help you grow your brand revenue and profits.
Why do you need to do sales prospecting
There are many different reasons why you prospect for customers apart from making sales and revenue. Here are some of those reasons.
Get customer data
As you prospect for customers, not all of them will buy from you in the first place.
You need their contact details to nurture them down the sales funnel, build more trust as you work on converting them into customers.
That's why as you prospect you have to collect customer data. This will help you reach your target customers.
You also know their challenges, the buyer stage where they are, and how you can help them.
Market your brand
Sales prospecting helps increase brand awareness. You keep reaching target customers who will buy your products or services and let them know what you can offer.
If you don't prospect many target customers who would have bought from you will not as they will not know about your business.
Create more selling opportunities
You are reaching more target customers to let them know more about your business.
In the process, you will convert some into customers. This will generate more profits and revenue for your business.
More important it can increase your customer lifetime value if the new customers become repeat customers.
Help qualify prospects
Not all the visitors to your website are target customers. With sales prospecting, you can qualify prospects and engage leads who are more likely to buy from your business.
As you bring in more leads you know their potential to convert into customers and probably repeat customers.
Understand your customers
Prospecting helps you understand your customers better. You fully know their pains and ensure you deliver the best products or services to help them with their pains.
Since you know your target customers you are always looking for better ways to deliver the best to them and retain them for a long time.
Types of sales prospecting
Before we look at the types we can differentiate between leads and prospects. To start leads are people who have shown interest in business products or services and they are not ready to make a purchase.
This interest can be informed of visiting your website, signing up for your newsletter. You may have few details about them such as their names and contact details.
On the other hand, prospects are leads who have already expressed interest in the business and are more willing to move ahead and make a purchase.
Now these are the types of sales prospecting
Cold prospects. These are target customers you have identified and with your evaluation see that they can be perfect customers for your brand. However, they don't know about your business or anything you offer. They also may not be interested in your business or what it offers.
Hot prospects. They are prospects who are willing and ready to use your business products or services. You have already started them down the sales cycle and are more likely to convert them into customers.
Warm prospects. These are not new to you and you have already had contact with them. The prospects have signed up for your newsletter or visited your social media profiles. They have already shown interest in what you offer.
Best sales prospecting strategies
Know your customers' challenges
You don't want to go searching for target customers when you can't help them solve their challenges.
That's why it is essential to do in-depth research on your target customers, know their pains, challenges, and position yourself to help them solve them.
Prospecting for customers when you don't know their pains will just waste your time.
Target customers are also searching for brands that understand them and help them solve their pains in the right way.
Ask for referrals
As part of prospecting, you can ask past and current clients to refer others to your business. Referrals are a great way to reach for target customers to join your business as they are referred by others who have already used your business.
However, most brands don't ask for referrals from past clients or 40.4% rarely do as per Marc Wayshak's research.
If past clients used and loved your business products or services, they will be happy to refer others to your business. All you have to do is just ask and they will be happy to refer others to you.
You can also use affiliate marketing referral programs for your business. Mediakix research shows that 34% of marketers say it's ROI is better than other channels.
You give target customers a percentage of the income when they refer a person to your business who ends up converting into a customer.
Use the power of social media
There are different platforms you can use to target potential customers as you prospect them.
Research and know the best social media platforms that your target customers use often. Also, join forums where they hang out and be helpful in those groups.
To increase user engagement with your content on social media use the relevant hashtags. To get the best performing and relevant hashtags to use you can check out these hashtag generator tools
For example, if your target customers are in the B2B space here are some of the LinkedIn groups you can find them.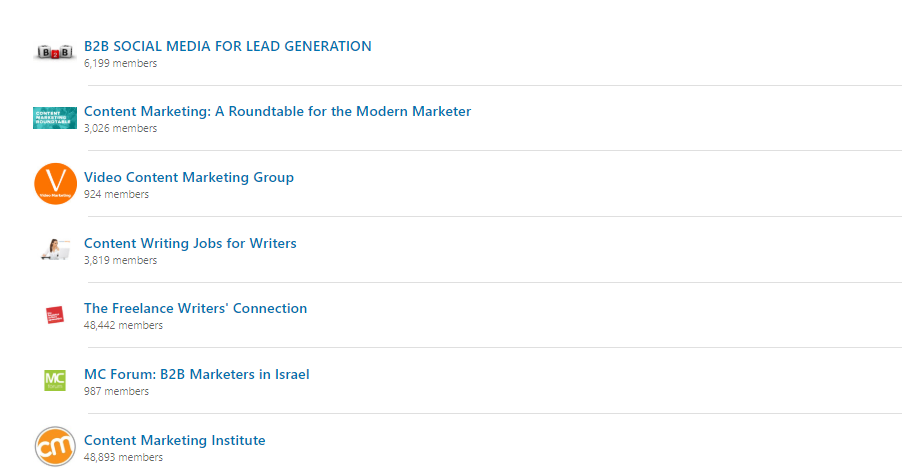 Post content that helps target customers in their pains you can also ask questions that concern your target customers' challenges.
Research by Rain Group shows that 66% of content that has insights on how to solve customers' pains gets more attention.
Follow up prospects
Many prospects will not make a decision to buy from your brand in your first conversation.
You need to keep reaching out to them, nurture them, and win them for your brand. That's why is it essential to do a follow up for your prospects.
But not many businesses follow up with their prospective customers after their initial contact with them.
SuperOffice did research that showed 2.4% of companies do follow up with their target customers.
This shows many brands don't follow up with their customers when they reach out to them and end up leaving a lot of money on the table.
As you prospect keep following up your target customers, provide them useful content, and guide them on how to solve their problems.
All these efforts help you win your target customers' trust, engage them in your business, and increase conversion chances.
Send personalized emails
Since you have collected names and emails of target customers you can send them personalized emails.
These will help nurture them as you show them what your business can offer and how it can help solve their challenges.
Target customers appreciate and like brands that have taken their time to research them and know more about their challenges.
Personalization will help engage target customers as you build trust with them, draw them to your business, and increase their conversion rates.
Create video content for marketing
Video content has high engagement rates than other types of content. As you do sales prospecting you can create video content for your target customers.
This content will make it easy for prospects to understand your business and what you offer.
Most marketers have seen the value of video content as research shows that it is among the top six content types of brands use for marketing.
It will help them easily see the value that you will bring to them if they use your products or services.
Have set time for prospecting
Sales prospecting is hard and it requires hard work, persistence, and determination. As a business, it is essential to have a set time to prospect every day.
Research shows that 81.6% of sales representatives spend more than four hours a day doing prospecting related activities.
The rewards of your hard work will not pay overnight but with the time you will see great results and increased conversion.
You should create high-quality content for your website on a regular basis. Also, post content on social media sites where target customers hang out.
Make sales prospecting a daily habit to put your business in front of your target customers, engage them, and provide them with the value that will help them solve their pains.
Don't put sales first, work on building relationships
Your first goal of prospecting should not be solemnly making sales. You need to first build great relationships with target customers.
These relationships will lead to repeat sales and continuous profits for your business.
Target customers can even see brands that are in for just sales and most of the time they will not make a sale.
Work on knowing your target customers better and so you can deliver the best that they need.
Cross-sell to current clients
You already have current clients who use your products or services. As a part of the extension of your sales prospecting, you can analyze your target customers for other needs they may have.
You can then provide more features, products, or services to help them solve those other challenges they may be facing.
Since you have already developed relationships with your current customers the cross-selling opportunities will help you serve them better as you make more profits.
Consider partnership with similar brands as yours
There are many brands similar to yours in the market and searching for the same target customers.
You can reach out to some of these brands and join hands in the search for target customers.
For example, you can co-host webinars and then promote the webinar to your target customers. It will be easier to reach many target customers joining other brands.
Conclusion
To grow your business you need to get new customers and make sales. Getting the customers is a long process starting with sales prospecting.
Make use of the above tips to simplify the prospecting process, get more target customers, nurture them, and convert them into loyal customers.