Video marketing is becoming one of the most popular marketing strategies for online brands. This is supported by the State of Inbound report that shows more brands are including videos in their marketing plans.
Research by Cisco shows that over 82% of all internet traffic by 2022 will be from video content.
Many brands are now using videos to reach out to their target clients, build trust, generate leads, and increase conversions.
Another research by Pew research center shows that many Americans use Facebook and Youtube social sites.
And these sites are most popular for one type of content: Video. Many brands that were not using video for marketing are beginning to now. This shows how important videos are for business marketing.
This post will help you know the types of videos you can create, the importance of video marketing, and the metrics you can track.
Why use videos for your brand marketing
Boost conversion
Videos can help you boost your leads conversion for your brand. Many target clients engage with video brands produce for their products or services advertising.
If they find videos captivating they will engage with the brand website, learn more about it, and later convert into clients.
Research shows that 40% of buyers consume 3–5 different types of content from the brand before they buy anything.
You can create different content types including video content that address the target client's pain points. Such videos are more likely to draw the attention of your target customers to your business.
Increase brand awareness
Videos are a great way to market your business to new customers. It's a great way to let your target customers know what your business offers and how you can help them solve their challenges.
As you market your brand, you can use videos to increase awareness of your business to your target customers and engage them in your business.
Promote products or services
Video marketing is a great way businesses are using to promote their products or services. Videos are easy to consume and can pass your brand message to your target customers with ease.
You can add a video on your landing page to help explain to your website visitors how your business operates.
Since people consume videos more than other content types, they will engage with your brand. Some of these visitors will eventually convert into your customers.
Increase customer engagement
A great video can help you increase user engagement to your business, help you build trust with target clients, and convert some into clients.
To increase target customer engagement, ensure that you first understand your customers.
This will help you create videos that target their pains and provide a solution they can use to solve the pains which will increase engagement.
Videos have a very high engagement rate. Research by Marketing Charts shows that people will spend over 1.5 hours per day watching videos online.
Has a high ROI
Many marketers are now using videos because it high ROI. It's among the top six content types 72% of marketers use.
Even most of the marketers using videos for marketing say will continue using them because of their return profits for their business.
Ensure you include captivating CTA to help your target clients take action after they watch your videos.
Boost search rankings
High search ranking will help you increase leads to your business, learn more about your products or services, and probably convert into customers.
With videos becoming more popular, Google is prioritizing sites that are creating video content and increasing its ranking.
Videos capture readers' attention and engage your target clients to your brand for a longer time which helps reduce bounce rate.
Keywords play a great role in increasing your search rankings. Many marketers use them to boost their content rankings.
Research by CMI shows that 78% of marketers use keywords in their marketing strategy.
To increase your video ranking, you can use keywords in your description that your target market uses to search for content.
Engage lazy buyers
Some visitors to your website who are potential buyers don't take their time to read through your different content types.
To engage these lazy buyers, you can create marketing videos as they are easy to watch, consume, and understand.
If these target customers don't feel like reading, they can watch and engage with your brand through videos.
Help grow your email list
Email marketing is still one of the great ways brands are using to increase conversions and sales.
Research shows that 77% of marketers still use email campaigns to nurture their target customers.
To effectively grow your brand through email marketing, you need to have a great email list of your target customers.
If you are still in the process of growing your email list, you can use videos to help you collect the email addresses.
You can include sign up link on your videos you create or give your readers a great video tutorial in exchange for their name and email addresses.
Video types you can create for your brand marketing
Now that you know the importance of video marketing to your business, here are some types of video content you can create.
Testimonial videos
Testimonies are a great way to build trust with target customers. Many target customers will first look at what other customers are saying about a brand before engaging with it.
To increase this trust you can create testimonials in video format for your target customers who visit your website.
This will make it easy to engage with past clients, build more trust, and increase conversion chances.
Demos videos
Especially if you are running the SaaS business, you can create video demos that explain more about your business model and how your target customers can use it.
More target customers are likely to engage your business after they see how your product or services work. Your demos videos will help your target customers get an idea of how your business model operates and how they can use it to solve their challenges.
How-to videos
Marketers create these types of videos to teach their target customers about something.
You can create different how-to videos that aim at helping your target customers build more trust with your business and increase their conversion rates.
Q&A Videos
Your website visitors and target clients will always have questions that they need to answer about your business. You can send your clients a survey and collect feedback with the questions they need to be answered.
You can them compile those questions and create video content answering them for your web visitors and target clients.
This will help solve their doubts and learn more about your business, customers you serve, and the help you have for them.
Video blogs
You can compile some of your blog content into videos for your readers. A good example is Neil Patel's blog where he creates different content formats for the blog like text, podcasts, and videos.
You can use some of your existing blog content and convert it into video formats. Here is Neil Patel's youtube channel.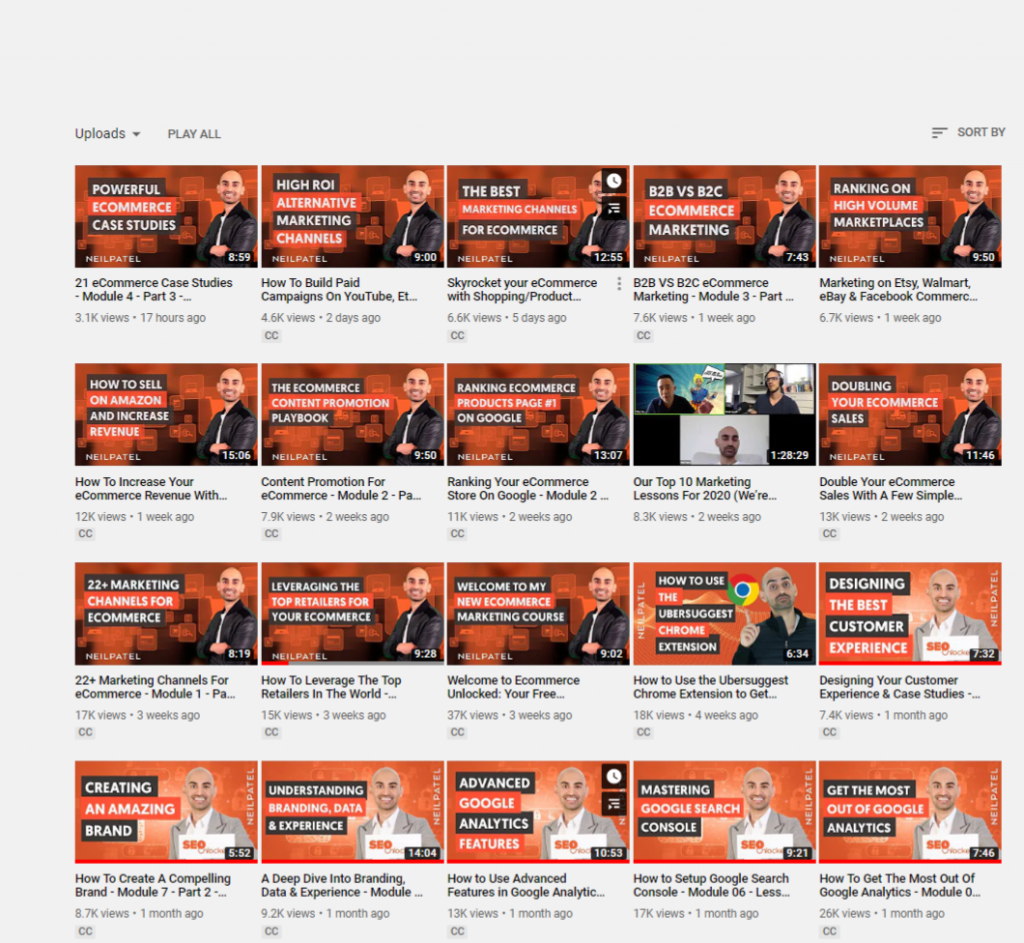 Ensure that the videos are captivating to catch the attention of the readers and draw them to your business.
You can run a survey and ask your target customers what they want to learn and then create video content for them.
Welcome videos
You want to make your target customers feel at ease when they reach your website.
You can create welcome videos to guide your readers around your website, the courses you offer or the products/ services you sell.
It makes it easy for readers to find what they were looking for and engage with your brand.
Q&A Videos
As part of your marketing strategy, you can interview thought leaders in your industry and create video content that you can avail to your readers.
When target clients view your interviews with thought leaders and influencers in your niche, they are more likely to engage your brand.
You can also collect together all the questions your customers and potential customers ask about your brand and compile them into video content.
This will help answer your clients' questions as they engage with your video content and learn more about your business and how it helps them solve their pains.
Webinars
Webinars are a great way to engage your target clients in your business and educate them about your products or services.
Research by CMI shows a 43% webinar usage in brand marketing. This indicates it's a great way to market your online business to your target audience.
You can prepare webinar content to teach your target customers about your business and how it will help them solve their challenges.
You can run a survey and let your target customers pick a topic that you want them to talk about on their webinar.
As you prepare for the webinar, pick speakers who are familiar with the topic and will answer target customers' questions to the best of their abilities.
You can host a webinar alone or co-host with other influencers in your niche. Remember you need to hold the audience long enough to the end of the webinar so that you can present them with your offer.
As you prepare your webinars you need to select the best platforms for your webinar marketing. You also need to heavily promote your webinar to your target audience.
BrightTALK research shows that Wednesday is the best day to promote your webinars.
Onboarding videos
Many brands lose their newly acquired customers after some time because they don't onboard them in the right way.
To reduce churn rate from your new customers you can create videos that will guide your new customer as you onboard them.
These onboarding videos will guide your customers on how to use your products or services and how to solve their challenges.
Your company support team should always be ready to handle your customers' concerns as they interact with your brand.
Video ads
You can create ads in the form of videos as you market your business. Ensure your videos are engaging, short, and have a compelling CTA to help target customers take the action.
More brands are using ads to market their business and engage with target customers.
Emarketer research shows that brands will spend more than 166 billion dollars on mobile ads and most of these ads are in video content.
Product reviews videos
Many target clients will first look for reviews from past clients about a brand product or service.
As witnessed from research 27% of buyers will read online reviews before their purchase.
You can collect all your product or service reviews and create video content that you can show your target customers to engage them in your brand and earn their trust.
Video marketing metrics to track
Now that you know the different types of videos you can create for your brand marketing. Here are the metrics you should track for your video marketing.
Watch time
This is the total time your viewers will spend watching your videos. Longer watch time is a great signal your audience loves your video content and engages with it for a longer time.
If your video watch time is less or viewers just click your video links and don't watch them, then you need to do something about it.
Make your video entertaining, engaging, and educative to stick your audience longer enough.
Click-through rate
You are not just putting out video content, but you want them to watch and take action.
Through your CTAs you can know how many viewers took action and clicked through to your website.
A high click-through rate shows that your readers love your video content. They are more likely to take the desired action towards making a purchase from your brand.
Number of subscribers
If you have a Youtube channel for your business, you can monitor the growth of the subscribers of your channel.
Increased growth of subscribers shows that they love your content and want to engage with it.
You can keep creating such video content to engage more target customers to your channel and business website.
User engagement
If viewers like your videos they are more likely to recommend them to their friends or share them on social sites.
You can track the engagement of your views through likes, shares, comments from your viewers.
A high engagement rate shows that they love your content. You can keep creating such content to build trust with them and draw them to your business website.
Audience retention
You can track your audience who watches your videos from start to completion. Many viewers skip through some parts of the videos.
This will help you know the videos that viewers engage more and then create more of those videos for your channel.
Conclusion
Brands are creating video content for their marketing more than ever before. It is a great marketing strategy for online business.
The above are some video types you can create for your business marketing. Ensure you use the best video editing software to create engaging video content.