Do you know that video marketing is an increasingly growing trend for marketing businesses and you need a great video script to create converting videos? Research shows that 81% of businesses have incorporated video marketing into their marketing strategy.
This is proof that videos are generating high ROI for businesses.
However, do you know that a great video needs a well-crafted video script to attract, build trust, and convert viewers into clients?
Well, if you didn't, now you know.
Do you want to create a great video but don't know how to write the script? Well, this article is for you.
The article will be your guide on how to write an amazing video script that converts leads to business clients.
Before you write your script, it is essential to collect intel from your prospective clients about your brand, products, or services.
Great sites like Qualaroo comes in handy to help in your search.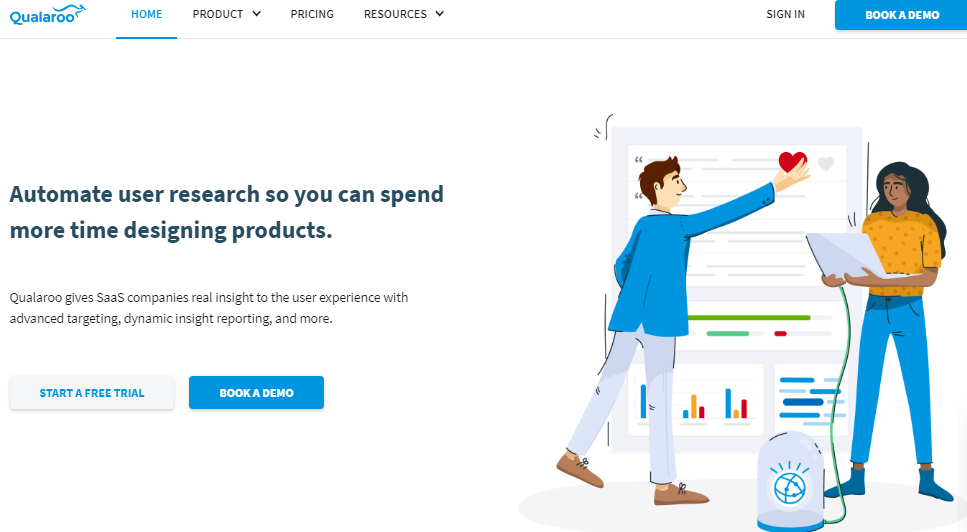 You may ask potential questions like:
What problem are you trying to find a solution for

What barriers do you have to buy products or services?

Are you confused when trying to navigate website pages?
Those questions among many others can help you learn more about your target audience and help you in video script writing.
Approaches to writing explainer videos
Inverted Pyramid approach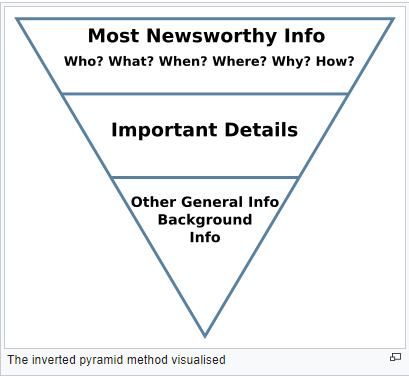 This approach involves structuring the most sensitive information of your script first. 
Your target audience gets the most sensitive information they need from the video from the first few sentences of your script.
When readers stop reading the script, they will have all the details they need. 
This is because they can learn more about the whole video after they have read the first few sentences.
When important information appears at the top, it acts as a hook to keep readers glued to the script to the end. 
That will increase engagement with your videos once they watch them and increase the chances of taking action and converting.
Problem-solution-benefit approach
This is a simple highlight of this approach.
Problem. You research your potential client's pain points and analyze them carefully. 
Solution. At this part of the script, you present clear ways on how you will provide the solution to the above pain points. 
This will be a step-by-step process on how to solve those pains. At this point to highlight how your offer will help solve your clients' pains.
Benefits. What do your viewers get out of your video? Why should they care to watch your video?
Highlight the benefits you will offer your viewers when they watch your video.
Process overview
This approach is not centered on the problem. It is a self-explanatory story. It is more of a " how-to" videos to help viewers know more about your brand products or services.
In this process, the video outline is drafted clearly and concisely. It serves as a guide to help viewers know more about your products.
Writing the explainer video script
An explainer video is an essential part of your video marketing strategy. It guides, educates, and informs your readers about your products and services. 
Here is a simple guide on how to write a video script for your explainer video.
Have a clear goal
Why create this video? That is one of the crucial questions before you create your video.
Other questions you can ask yourself include:
Whom am I targeting with my video?

What do I want to achieve with my video?

What do I want my viewers to take away from the video?

Why should viewers care to watch my videos?

What are my target audience's online habits?

What channels will I use to market my videos?
A clear goal will help you know what you want to achieve through your video and work hard towards it.
Use a short script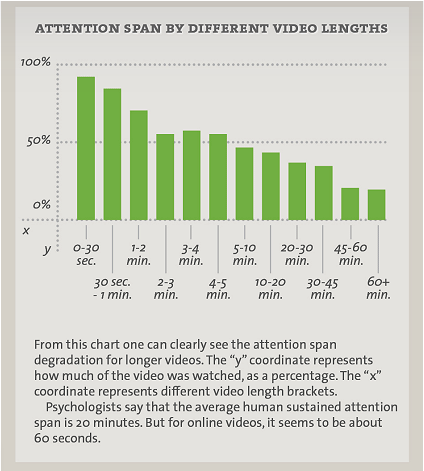 Readers hate long and complicated content. When writing your video script it is essential to keep it short.
Before you write your script, determine how long you want your video to be. Short videos have a high engagement rate. 
Keep your video script at a word rate of between 130–150 words per minute.
Once you know the length of your video, write the script in a style that caters to your audience's pain points.
Use short sentences and break down your content into short paragraphs. 
To capture the attention of the people watching the video, place your main message in the first minute read of your script.
When done writing the script, read it aloud to help eliminate any errors you made during the writing process.
Reading out loud also helps you know how your video script will flow and gauge the length of the video. 
This tool can help you check the reading time of your video script.
Tell a story
Although the explainer video is more about the problem-solution approach, it is essential to present it as an interesting story. 
An interesting story activates viewers' imagination, makes them happy and engaged in the story. 
That's the power of a great story. You can use an amazing story to highlight how your products have helped your clients. 
If you present your story well, your viewers will be able to know how your brand works and be interested in using your products or services to solve their pains.
Include a call-to-action
It is essential to include a great call-to-action for your video. The CTA's will help guide your viewers on what to do after they watch the video.
What action do you want your video viewers to take?
That question should help guide you to design an effective call-to-action for your videos.
Ensure your call-to-action matches your video script content to make it easy when guiding readers on the action to take.
How to write a YouTube video script
Here are tips for crafting a great video script for your videos to increase engagement, conversion, and sales.
Create your video story outline
A video script outline will help you have a clear layout of your video. The outline guides you on how you will frame and present your video.
It helps you align your video marketing goals with your script.

An outline guides you on what call-to-action you will include for your YouTube videos.

It helps you come with ways to keep your YouTube viewers engaged in your videos.
Add video titles
Your title sequence is an essential part of writing your YouTube video script. It is at this point where you advocate your business brand. 
The title sequence helps your target audience know the type of videos they watch.
It is essential to include the right keywords within your video script to help with search optimization.
Include emotional content
People relate and connect with emotions. It is essential to include emotional content that helps your viewers relate and engage with your video.
These questions can help you frame your emotional content for your script.
What is the most important part of my video I can include emotional triggers to help connect with my viewers?

What are the main characters in my video?
Write a well-structured script
Structure your script well to ensure a steady flow of your video ideas. 
Let the readers know what to expect from the video by the natural flow of your organized script ideas.
Keep it short and concise
Keep your script direct and concise. Present what you want your readers to get in a clear and easy-to-understand manner.
 As you keep your script short, ensure you use the simple words and language your readers will not strain to understand. 
Don't use tongue-twisters when writing your script.
Present your script clearly to compel people to engage with your video and business brand.
Be interactive
Interactively present your script. Don't forget to be personal as you focus on presenting information to your readers.
One great way to be personal with your video script is to refer your readers with words like "you"
Include engagement moments in your video script as you present it to your readers.
To keep readers engaged and active, ask them to connect with you by leaving comments on your video.
Proofread your script
Your script should be free of any grammatical errors. It is essential to proofread your script once you finish drafting it.
One great way to ensure your video script is free of error is to read it aloud. That will help you identify the errors within the text content.
Having another set of eyes to check your content is a good idea. Get someone to proofread your content and help you eliminate any mistakes.
Use the right tone
What is the end goal of your video? What target market you want to reach? These questions can help you know the right tone to use for your video script.
Be clear on the tone you will use for your video. Do you want it to be conversational, friendly, or authoritative?
Irrespective of the tone you choose, ensure it aligns with the target clients and your preferred desired actions they will take on your video.
How to write a script for marketing your video 
Video marketing is becoming a popular marketing strategy. 87% of online marketers are using video as a marketing strategy.
To ensure you capture the reader's attention, it is essential to draft a great video script for your marketing videos.
Here are tips to write a great marketing script that converts.
Use the SMART approach
Begin with the end in the mind. Before, you write your script have a laid-out plan on what you want to achieve with your video.
Before, you script your video have the answers to these questions about your video. The how, what, when, which, and who questions.
These questions will help guide and keep you aligned with your video marketing strategy plans.
Convert your script message into a story
Great engaging story converts. As a plan to create converting video script, ensure you write a converting story for the scripts.
You have several core ideas you want to pass to your readers through your script.
Convert those messages into an educative, entertaining, and engaging story. Align your video script story with the objectives of your video.
Write in your audience language
Write a script that appeals to your target market. One great way is to use the language your readers understand and can relate to.
It is recommended to use a simple and conversational tone. Make your target readers of your script feel they are speaking with a human being and not a robot.
Use words and phrases your target audience use and are familiar with. You should ensure your script supports your brand voice.
Read your script after writing
A great video script should be captivating, entertaining, and effective at passing on the intended message to readers.
One way to help you achieve that is by reading your script several times after writing it.
This will help you know how readers will perceive your script. It helps you remove any mistakes within the draft.
By reading your script, you learn how your script communicates your intended message naturally.
When reading, pay attention to the time it takes to read the content. Also, learn the words or phrases that sound difficult and remove them.
Tweak and re-tweak the video script
You have goals in mind you want your video to accomplish, right?
Your video script is a great start point to ensure you achieve those goals. Since you have a brief of your script, tweak your script to ensure everything is in line with your goals.
Here are questions you can ask yourself to help with tweaking your video script
Will my video script resonates with the target audience?

What is desired call-to-action I want readers to take after watching the video?

How long do I want my video to be?

Does the mix of sound and visuals collaborate with my video script?

Is my video script story engaging and with a logical flow?

Does my video script speak out the core message (s) of my video?
Keep tweaking your video script until you get a yes answer to all the above questions.
Optimize your script for search engines
According to a report by Cisco, by the year 2022 videos will contribute up to 82% of all internet traffic.
A simple search for "video marketing" has about 454M results.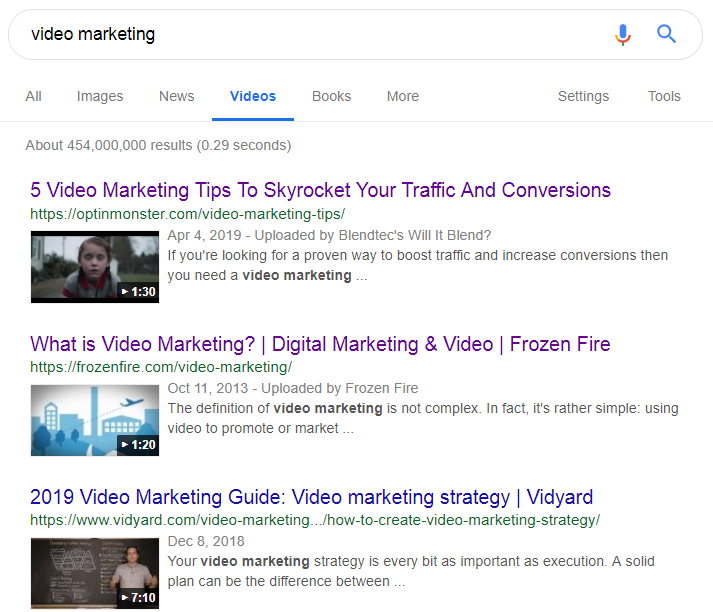 Since videos are becoming more popular, ensure you optimize your script for ranking on search engines.
Research your target audience and know the keywords they use. Include these keywords on your script headlines and within the video script body.
Research by Backlinko shows videos with exact keywords audience use to search video content ranks well.
Use these tools to help optimize your videos for high ranking on search engines.
Conclusion
Video marketing is growing and becoming a great marketing strategy for businesses.
The success of your video marketing depends on how your ability to write a great converting video script. 
A great script helps you have a converting video. Explainify does awesome work to help you create high-converting videos for your business.

Do you want to create a converting explainer video script? Take action, use the above tips to create a script for your business marketing through videos.