Do you know your SaaS conversion rate the difference between your business success and failure? It's what will make you grow a successful SaaS brand.
Brands are giving their best to find their place in the market and grow their customer base. They use different marketing methods to draw target clients to your business and increase the conversion rate because it is a business top priority.
If you don't win the trust of those potential customers and convert them, you end up losing lots of revenue. If you are worried about how to increase your conversion rate and generate more sales, don't worry.
This article will guide you on how you can increase conversions of every potential client who visits your SaaS website.
To start with conversion rate is the percentage of people who take the desired action once they reach your website and convert into customers. These desired actions can include:
making a purchase
subscribing to your email list
downloading something from your website
upgrading their service
calling your business etc
Ways to boost conversion rate
Ensure your website is mobile-friendly
Online marketing is changing and people are using mobile devices to access information than ever before. If target clients can't access your services on their mobile devices, they will join your competitors.
Your website should be mobile friendly and have high loading speeds. Nothing pisses off-target clients that websites that take ages to load.
Also, make it easy for target clients to navigate your website and find what they are looking for with ease.
Optimize your landing pages
As you create your landing page copy, include keywords that rank. These keywords should be what your target customers use to search for solutions to their pain points.
Optimized landing pages are easy to rank and draw more leads to your business. Also, your landing page copy should guide your readers and show them your business value proposition.
To clearly present your business to your target customers you need to know their touchpoints. Your copy should address those pains and provide them with a way to solve them using your services.
Offer free trials with all features
Giving target customers free trial is a great start in building a relationship with them. Free trials will help your target customers know how your business services will help them through their challenges.
The trial period differs from one SaaS business to another. For example, Neil Patel Ubberssugest SaaS business has a free trial of 7 days.

Others give a free account but with limited features where you can upgrade to access more services.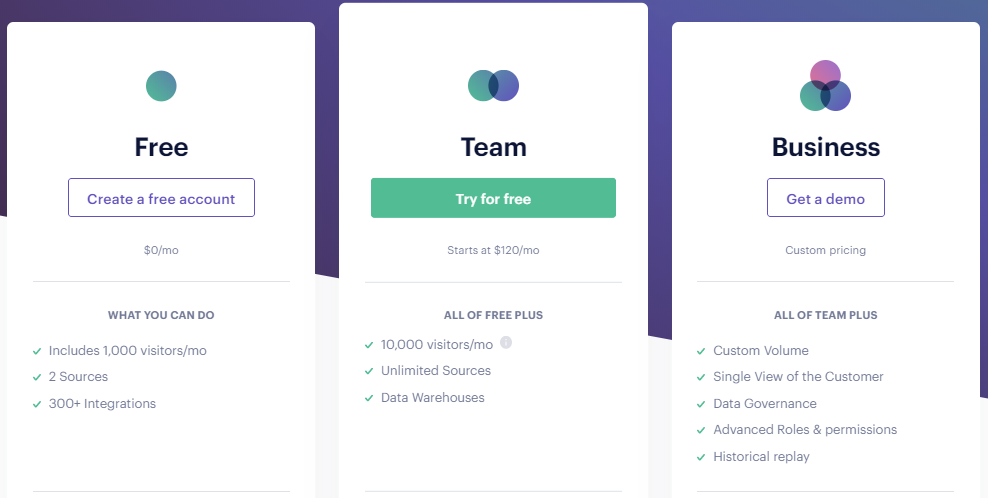 And others have 14 or 30 days free trial. Here are some examples.

Irrespective of the length of your free trial you should give your target customers trials with enough time to see who the business can help them solve their problems.
During the trial period interact with the clients to know how they enjoy your business. Collect customer feedback on how you can improve the service to help them fully solve their challenges.
Create quality content
Target customers interact with your website content before making a purchase from your business. To engage and build trust with your leads, you should create quality content that addresses their challenges.
You can create different types of content to engage target customers. Research by HubSpot shows who markers use different forms of media for their content strategy.
The content should also be optimized for search engines. If target customers find your content useful in helping them solve their challenges, they will engage with your brand.
This will increase the chances of taking action such as signing up for newsletter updates or the latest blog post update.
This gives you more opportunity to nurture the leads, let them know how your business will help, and later convert them into your customers.
Grow your email list
Most target customers will visit your website and probably never visit it. You can ask them to join your email list.
Once in your list, you will be able to nurture them through the sales cycle, build trust, increasing engagement, and later convert them.
Email marketing is a great marketing strategy to increase your SaaS conversion rate and has a high return on investment. Here are some statistics that support the power of email marketing.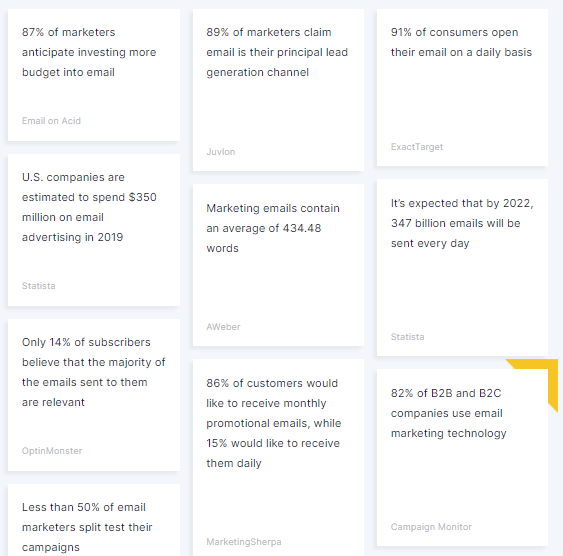 When done right, email marketing can help increase your SaaS business conversion rates as more target clients trust your brand as you market and nurture them through your email campaigns.
Run A/B tests
As you market your SaaS business you need to experiment with different aspects to increase brand engagement and trust with your target customers.
One great way to help you is run A/B tests for your website. Successful A/B tests will help you know what works for your business and optimize them to draw more target customers and increase your brand conversion rate.
There are different things you can test for your A/B experiments. However, you don't want to make these A/B testing mistakes as they will significantly affect your business growth.
Include testimonials and reviews
As shown by research contacted by BrightLocal target customers always check out product or service reviews before buying it.
Customers need to feel safe when doing business with your brand. The best way they achieve this is by being reassured by other past clients through testimonials and reviews that your business is safe and delivers high services. Here is an example of Hubspot testimonial.

This is done through customer testimonials and reviews. As potential customers engage with your brand to become clients they check out what other customers have to say about you. Here is another example of OptinMonster testimonials.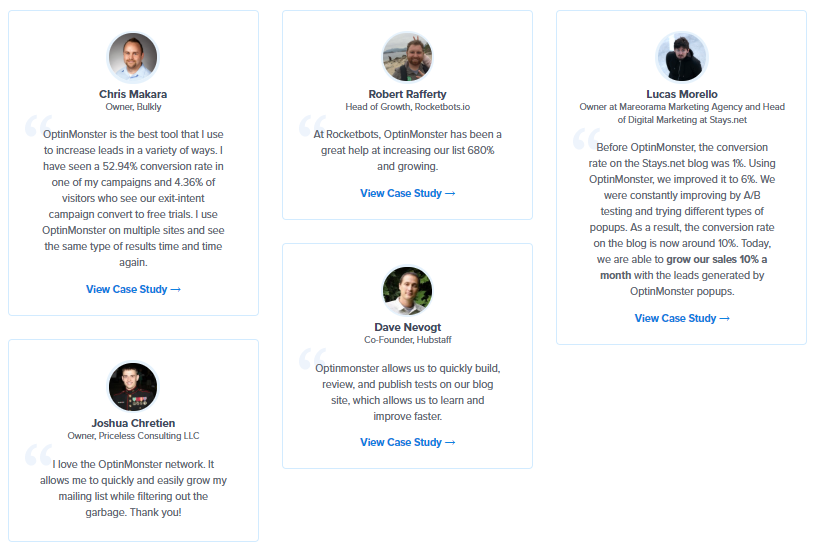 If your target customers find more customers to trust your brand and have benefited from your services in solving their pain points, they will most likely become customers.
That is why it is essential to ask your past and your current clients for testimonials to help you build this trust.
Improve customer experience
Target customers are now searching for brands that give them the best experience. As you deliver the best services to them, ensure you give them the experience they are looking for from your brand.
Customers will stick with brands that give them the best experience. Research by Econsultancy and Adobe shows customer experience as a great business opportunity for B2B brands.
Even Walker's report shows that customers care less about price but the experience they get from a brand.
Just as customers talk about a brand that didn't serve them well they too talk about ones that have done amazing at solving their pain points.
Happy customers become your brand advocates and draw more target customers to your business who convert and become your customers.
Use great CTAs
CTAs greatly increase your brand conversion rate. It is essential to use great CTA that will make your target customers take action and convert for your business.
You can use words that evoke emotions in your CTAs to increase the chances of target clients taking action. Also, personalize your CTAs to your target clients as this increases the conversion rate. Personalized CTAs with the smart button is more converting than image CTAs.

Have a great customer support team
Customers like brands that care about them. One great way to show your target clients that you care about them is by giving them the support they need as they engage with your brand.
Research shows that about 70% of customers leave a business because they think it doesn't care about them and their pain points.
Having a team that addresses customer challenges in the shortest time can increase the lead conversion rate for your brand.
Improve the onboarding process
This is one factor that makes many SaaS businesses lose their customers. Research shows that 25% of customers leave a business after a few transactions.
To increase the conversion rate, SaaS brands should have a great onboarding strategy for their new customers.
Guide your customers step by step on how to use your services to solve their challenges. Show your customers how to use your business to solve their challenges.
Even if you have an awesome software business but your target clients don't know how to use it will not make any difference to them.
Create video demos
Video marketing is a great way to engage your customers and increase conversion rates for your SaaS brand.
Research by Wyzowl shows videos have an 88% ROI for brands that use it.
For your conversion rate boost, you can create demos that show your customers how to use your services.
In those short demo videos, you can show your customers the value proposition of your business. It's a great step to gain their trust and increase the chance of new target customers converting.
Collect customer feedback
Your main goal for your business is not only to deliver the best services for your customers but also to keep improving them.
The best way to do it is to collect customer feedback and act on it to provide customers the best service they need for their pain points.
As a business always be proactive and look for ways to understand your customers better in order to give them the best solution to their challenges.
Conclusion
Take action and use the tips above to improve your business conversion rates. Show your customers how your brand solves their challenges.
Since your business model is a subscription, keep improving your services to increase customer retention, and generate more revenue.