Have you ever taken any online courses? If yes, what did you have to consider before joining the course?
Let me guess: Ratings and reviews.
Right? Why?
Because people trust and believe what other people say.
That's why ratings and reviews are essential for your eLearning course. Research by BrightLocal shows that 79% of customers trust online reviews and personal recommendations. It shows how valuable reviews and ratings are in your customer acquisition and business growth.
The learning model is rapidly shifting to online learning. A report by Forbes states that the E-learning market is projected to grow to $325 billion by 2025.
To build your business brand and have a high conversion, you will have to win your student's trust.
There are many reasons why you need ratings and reviews on your e-learning website. This article will give tips and insights on those reasons.
Ready? Let's start.
Reviews create an online reputation.
When it comes to online learning, reputation is one essential factor determining your course success.
Students have faith in websites that are reputable. Therefore, when students leave a review after taking a course, it makes the website more reputable.
Coursera is a fantastic example of a popular e-learning website. It offers a variety of courses, and with time it has built an excellent reputation.
When it comes to doing something similar on your WordPress e-learning website, you need to use the right tools and plugins to help your learners leave a review on your website with ease.
Another thing.
You allow customers to leave reviews, and ratings on your website show you care for them.
Reviews help you know how helpful your course is for learners. Their feedback enables you to improve and, in turn, gives your new customers a happy experience as well. This is a cyclic process and helps build trust with your customers.
You increase customer engagement when you allow ratings, reviews, and comments on your e-learning website. As a result, students feel free to interact with your course and know more about how your training will help them.
You get to know your learners better, and their expectations from your training help you deliver the best services through your e-learning website.
This is essential to help develop an excellent reputation in your market niche and help you grow your conversions, business, and sales.
Reviews improve search rankings.
As your learners interact with your course, they leave reviews on your website. Google uses those reviews, among other factors, to rank your website.
Reviews target your potential clients' keywords—the words they use to search for information online. Positive reviews signal Google that your site has high-quality content and hence ranks it high on its pages.
Make sure you encourage your clients to leave reviews for site optimization. If your e-learning website is optimized, you will attract more traffic and leads to your business.
There are several good WordPress review plugins, like WPReview Pro. These plugins help you optimize your ratings and reviews for better search engine ranking.
Reviews prove course reliability.
Students will love and rely on your online training if your online training is excellent. Upon graduating or at the end of the course, they will leave reviews and ratings on your website.
Plus, when your e-learning customers have a great experience with your training, they will recommend it to others.
As per a study by Walker, by 2020, 86% of buyers will focus on customer experience over your services.
What does this imply?
Your potential customers will focus on how satisfied your previous clients were when choosing an online course.
And how will they know that? Yes, you're right though ratings and reviews.
The reviews will signal that your course is lovely and you should join it.
And last but not least.
Reviews increase conversion rates.
Ratings and reviews play a crucial role in converting leads to students for your e-learning website.
Many people read reviews on websites before they buy from a website. E-learning websites are no exception.
Want some proof? Research by BrightLocal shows that 91% of customers trust online reviews as much as a personal recommendation.
This indicates one thing. If potential clients read and are satisfied with reviews on your website, they are more likely to convert. Statista research shows that 94% of positive reviews can make one buy from a business.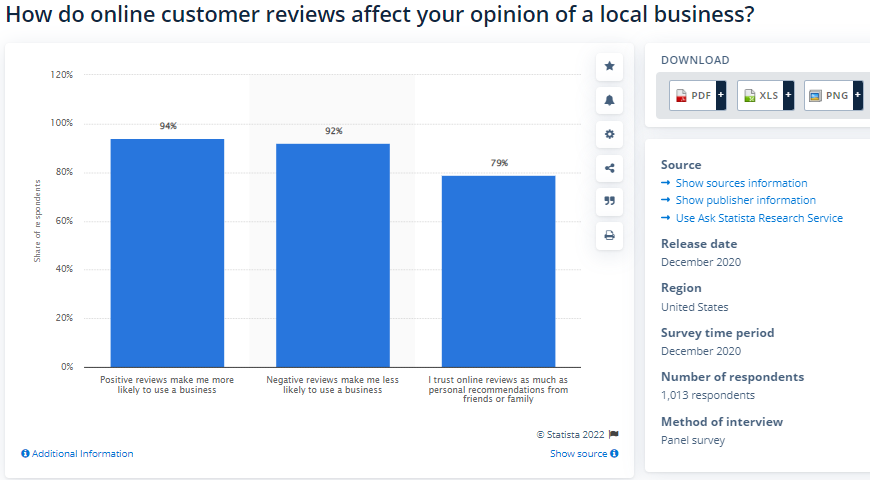 Clients convert because of your positive reviews.
But watch out.
Your negative ones can drive away your potential clients.
It is essential to deal with negative reviews and solve any clients' complaints to maintain a positive reputation for your business.
Reviews help in market analysis and improve the course
When your students leave a review on your e-learning course, they do more than recommend it to others. They leave their thoughts and feedback on how the study was.
Analyzing what your students say in their reviews will help you improve the course.
They will say what they loved about the course and what they think will be better if included in the course.
You can also learn some great ideas from the reviews that can help increase the value of your courses and keep getting more students to take your courses.
How to simplify the rating and reviews process on your e-learning website?
You now know why you need reviews. But you could be wondering. How can you make it easy for your clients to leave reviews on your website?
If you make the process of leaving reviews hard or complicated, I guarantee you will get few or no reviews on your website.
Do you know what that means? Losing a great opportunity to grow your business.
So what can you do? First, you need great plugins that will help simplify the process.
Best WordPress Rating and Review Plugins
Your clients can review and rate anything on your website. It's user-friendliness, ease of navigation, the standard of the training, the list goes on…
This means you need to have ratings and reviews on your e-learning website. You need a plugin compatible with your website and easy to use.
Here are a few plugins you can consider:
WP Review Pro

WP Product Review

Site Reviews

WP Customer Reviews
Remember, your services should speak out for you in your industry.
Are you confused about what I mean by that? Don't worry.
I mean, your e-learning courses should be of top-notch quality so that your students themselves will be your advocates.
Through ratings and reviews, invest in the right tools to help your e-learning business prosper,